I'm on the hunt for great
kid games
for Christmas gifts this year! I found this Melissa and Doug: Joey Magnetic Dress Up set that I would like to buy for Sam at Canada Post! I think this would make a great gift for him because he always likes to play with Bella's magnetic dress up dolls and I've never seen a boy magnetic play set!
I think Bella would really like this Avalanche Fruit Stand game! Kids can use a jumbo tweezers to pick or place fruit on or off of the fruit stand. This game is said to reinforce colors, and the pincher grasp. It looks like a whole lot of fun too!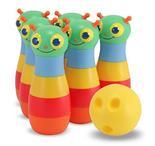 I was also thinking of getting this "Happy Giddy Bowling Set" for my nephew who is turning 2 next month! This looks like a really fun game for him! He loves to play ball and this would be a good indoor game for him to play this winter. What do you think? Do you know of any great kid games that would make a great holiday gift?